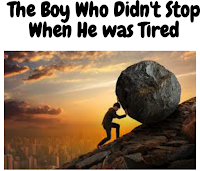 Thakur, No! You can do better, consoled the warden, who had taken him for a walk in the garden.
Thakur had met an accident 4 months ago. He was severely injured and had gone through major surgeries. He was good in academics and loved swimming. He was studying in class 9 in a boarding school, away from home and family.
After the accident, Thakur was physically and mentally disturbed about his life and career at stake. He had begun giving up on studies and dint wish to open his book again. He had begun to get nightmares about the accident incident often. He refrained even going back to school because he felt entirely different.
Parents had convinced him a lot to move out from that incident and face the outer world. They had always encouraged him and made him understand that once he resumes life normally, situation will become better and healing will be faster. Thakur, despite trying hard could only walk about 50-80 meters at a stretch with the help of a walking stick.
With little more improvement and numerous calls from the school regarding a year drop-out if he didn't attend school and appear for his exams. The thought of missing a year gave a major setback to Thakur and had finally agreed to be back to hostel and re-join school. With all the formalities done and an assurance from the school about giving him best care and support, parents had finally bid him a bye,
Thakur had become quieter than before but his dreams were determined. He had his roommates and close friends who had got him books, notes, food taken him to classes, they assured to stay around whenever he needed something. Thakur, No! You can do better, consoled the warden, who had taken him for a walk in the garden. He kept gazing around the garden where his friends and the rest were walking properly and he had to use the support of the warden and the walking stick. He had tears in eyes, watching people swim and play across the garden.
His friend, Sahil walked up to him and gave a pat on his shoulder. Thakur wiped the tears off and waved him a Hi! Sahil, by then had sensed that Thakur had been drifted in some thoughts and wasn't feeling good. Sahil had asked about what he had been thinking and grabbed his shoulder, assuring him to trust him for any help.
Thakur had started to open up and had shared the incidents of the accident, how he had been treated, how he had dipped 20% in academics, about his family, career stake and life at normalcy and lastly, swimming. He had tears and felt helpless at that moment.
Sahil heard everything patiently and then passing him a kerchief to wipe the tears and said "ARISE AWAKE, AND STOP NOT TILL THE GOAL IS REACHED". Sahil after a brief pause continued, look brother, there are always times when you feel that life has come to an end after a distraught event occurring in life. A failure or an accident just can't be the reason to sit back with the past and grieve over it. We must be rather fortunate, that we still breathe and we have a chance to move further and prove ourselves to the world that we aren't stopping when you wish, we won't stop until we are tired, we will keep moving until we reach what we desire. Look, Thakur, you had always been good in academics and swimming. Set that as your goal. Sitting here and crying over the past is only going to make you feel worse. Believe in yourself and make sure you swim again and also top the class. I will be the first one to give a standing ovation that day.
Our whole class and teachers support you Thakur. C'mon now cheer up and set your goals, Thakur after sharing and hearing all these felt light and nice. He stood up and hugged sahil and promised to reach his goal very soon. Sahil smiled back and replied, brother, "I am sure you'll make me proud" and both left to their respective rooms.
Prologue
Thakur eventually healed himself mentally and physically. He had began swimming by the new academic session. He ranked 2nd in his class. Sahil was always behind his back supporting. Thakur had realized that the goals are never ending until the breath rests. Keep setting them and keep moving toward it. There is no stopping and looking back again.
He had left school after his 12th with the best determined student award. Set your goals high and fly high.