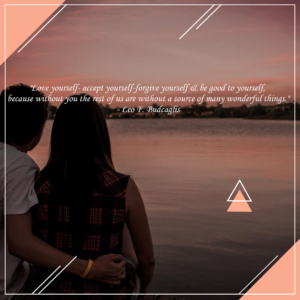 We live in a time when the media tells us how to dress, what to eat, how to act and the list keeps going. It's easy for someone to get caught up in this materialistic world where we focus on a our flaws instead of seeing through our true selves. The reality is we are all different and different is a good thing. We should not be afraid to be yourself instead, we should embrace our unique characteristics because will only have one life to live.
To love yourself means to accept yourself as you are and to come to terms with those aspects of life that you cannot change. It means to have self respect a positive self image and unconditional self-acceptance.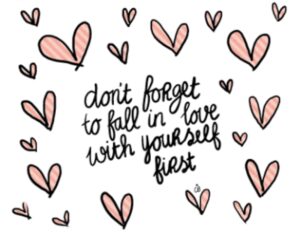 I believe that loving yourself is a solution to many problems. Self love is the secret to success, satisfaction and happy life. Self love is the best gift one can give oneself. Loving and believing in yourself is the key to trying abundantly.
When you love yourself unconditionally your mind shifts to the energy of love and abundance. It enables you to have more peace, confidence and happiness which empowers you when you. When you feel powerful your attitude changes from pessimism to optimism and you will attract more uplifting people and experiences in your life.
Loving yourself is most important attribute someone can have. This is not gender specific because we all deserve to be happy and being happy comes from within. As individuals we need to love ourselves on our best and worst days. The way we look at ourselves may be different but positive reflections can go a long way. In return, we realise that we do not seek approval from others. We don't have to be people pleasers, because the only one who needs to be pleased is ourselves.
I think that everyone should tattoo it in their brains that despite all the things that you think may be terribly wrong with you love yourself. I hope that after reading this you will see the importance in loving yourself unconditionally.