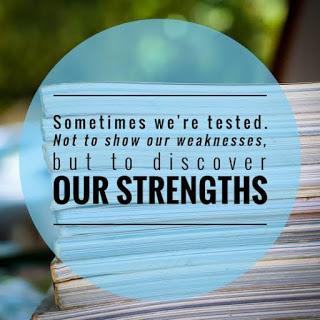 I absolutely believe this quote. This gives  a very powerful message to all of us. I think during this pandemic where time and again we are tested this quote reinnds us  to stay strong and keep going.
I often think that at times in our life we are left with no option but to move on. It might seem impossible to sustain or move on in such times,  but we survive. It is during such times that we discover our real strengths. I think most of us are unaware of what we are capable of until we are tested to our limits. It is essential that we continue to move ahead in the right direction irrespective of how many challenges we face on the way.
Sometimes we have to be to test ourselves and push ourselves to the limit. It is how we grow,  and it is how we gain life experiences. You never know your real strength until you push your boundary. Don't underestimate yourself. Never say I cannot do this or that until you try. I feel that we must always be open to learning and also be open to observation. Both these things will help us to understand more about ourselves and also will lead to discoveries of more of our strength by ourselves. Most often we give up too quickly. But what I feel is that come what may happen we should keep going and stay strong.
In this current situation where everyone is stuck indoors with very little space for self and most of one we don't have the habit of staying at home for long we may give up easily. With all the negative news all around us we feel stuck and restricted. I think in these tuff times we should keep calm and keep away from negative news and just focus on keeping on going and start discovering our strength.
To keep away from negative stuff I suggest that we read motivational blogs, stories or watch something that will keep negative thoughts away from us. Talk to people who matter to you and also spend time with family and help one another to keep going and discovering strengths of one another. I urge  my readers to keep strong and just keep discovering your strengths. I would be very happy to give a listening and help my readers to discover their strength. Don't think that these tough times will always be with us and we can't do anything. We are all  being tested but we should focus on a new discover discover strengths. Like I am enjoying my new strength of writing.