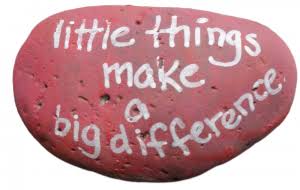 This quote is my personal favourite. This is a simple yet powerful statement. Many a times in life we mostly focus on the bigger picture and forget the small things in life. When we set a big goal, we should remember that we are assigning ourselves thousands of small tasks. Ehen people give up on the big goals, its because they haven't clarified what those thousands of small tasks are.
I believe that only where you are are going to accomplish something really big is by paying attention to the smaller things in life. I realised in the journey of my life that most of the time we need to step away from the bigger picture and focus on the little things as it is important that we focus small things in life believe that this will automatically take us to earth the bigger picture without too much of tension.
Every deed that you do in life matters. Big and small acts together make life worth living. I feel that the pursuit of happiness is a lifelong journey for most us. And while there are many roads that we can choose one of them is through performing a series of small acts each day. The results of which may not be seen all of a sudden but over a period of time.
Guys, just look around you and you may see people who believe in living little moments of happiness in their lives. I urge you my readers to also try living small or little moments as they come to you and automatically see the changes in life.