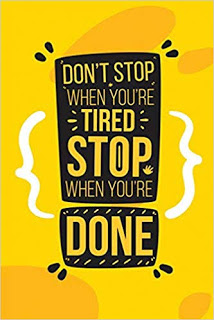 Tiredness is a common thing. Whenever you work hard to achieve something, you are bound to get tired. But that tiredness shouldn't be the reason to stop you. If you quit due to fatigue you can never reach up to the desired destination. So, quitting is never an option.
I believe that in life we all are busy moving at our own pace and sometimes it is exhausting. Nothing is easy and at one point or the other it makes us all tired. What we need to do is we can take rest. If we rest we will regain energy and there after that we would again carry on with our goals.
One needs to understand that rest is also important. If rest is not taken then energy may fade out soon. And as a result, dreams will never be achieved. So take rest when it's necessary but do not stop. I have made this quote the "Mantra of my life" and have embarked on my journey of motivating you my readers with inspiring articles and stories. As I sit down to research and bring to you good motivational content, many a times I feel like giving up as this work is going beyond my comfort zone and even racking my brain.
But I don't give up easily. I take a pause and calm myself and keep going as I know that you my readers are always there to support me and encourage me to do still better. I suggest you all no matter, how tired you are, you should carry on with your work or goal. Just ensure that you are giving the required efforts to accomplish your goals.