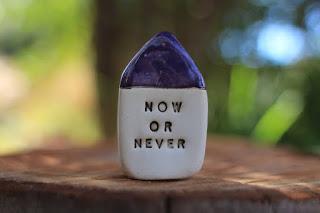 I believe in the fact that "There's no next time, it's now or never."
The time to take action should be Now. Not later, not tomorrow and not some other time. Procrastination is a sin. If you can do something today, better do it now. You'll never know what might happen if you don't do it. If you don't do it at the given time chances are that you will lose the chance forever. No one will wait for you to get ready. People will look for once who are already ready.
I believe that today is the day. Today very well could be the day if you decide that it's the day for you to take your own life to the next level. We people always plan for the future fail to live in the present. Life is always either live it now or then just forget about it. There is no point thinking about all the it's attached.
They say
"Never plan anything for tomorrow for think of the past. Live the present. You're living in the present… Why think of the future or past!"
This saying is so apt for all of us especially in the wage of events taking place in the world today life is very uncertain at this stage due to this pandemic people are all uncertain of what next is instored. Many have lost their lives in 2020 many. I think all these people must not have even thought about that calamity happening to them and were busy in earning for future in this process there they forgotten to live in the present
Putting life aside and solely concentrating on earning for the future is of no use. One need to balance between earning for future and living in the moment. This is the need of the hour. During this world crises future is not going to come to save us. What we do now to safekeep our self that will keep us safe and ready for all challenges in future.
We don't always get second chances. A lot of times, it's what we do now that make all the difference. We can choose to aim for Excellence or be sloppy. What I have experienced during this lockdown situation is that over thinking and worrying often delays our actions. There will be moments in our lives when we need to act immediately and not with single second because sometimes there is no next, no time out, no second chances. Sometimes it's Now or Never.
If's and but should not be spoilers and setbacks in life. Take this opportunity of lockdown to calm yourself and stop over thinking and just live now and
keep reminding yourselves that we don't always get a second Chance. All we can do is do the best we can now.
Don't think about the second chances you never know when will they come.
Go and make your dreams happen today!