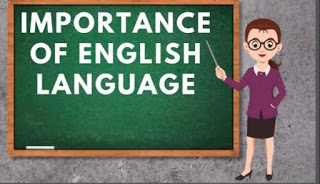 Do you know why humans are greater than any other creatures on earth? What has made Humans do so well when compared to the rest of the species? It's just only due to human's natural skill to produce words and speak multiple languages. Today , there are more than 3,600 officially recognised languages in the world, out of which, ENGLISH stands with head held high. Maximum people on earth do understand and Express themselves in English.Simply not, English is called the Window to the world. Each country is connected through English language. Every global transaction is in English.
Nevertheless, there are people with a twist in their thoughts. They try and voice against the use of English because they opine our native languaes get dampened due to the overuse of English. However, there's no end to this argument. We need to add a little wisdom to our opinions.
Learning to speak English doesn't mean that one has to forget his mother tongue. Knowing multiple languages is a bliss in itself as it helps us to understand multiple cultures.
When the world has become small due to globalisation, we grown ups have the dual duty of equipping our children with at least three languages, one's own mother tongue, Hindi and most importantly , English. Our children are quite fluent speakers of Hindi and their mother tongue, but where they get stuck is speaking English the way the native speakers speak.
Parents admit their children in English medium schools, hoping to make them smart. It goes to prove that English language converts children into smarter ones. It is because,
English is a very simple but a beautiful language , its essence has the capacity to think and act in a gentle way. When, we as elders try to inculcate values to our children in all possible ways, there are thousands of hurdles on our way of culture building. For our native languages have many words that sound impolite, rude and nasty that we have to often scoff at them. Here I don't mean to say that our Indian languages lack goodness , in fact , they are divine. But it is sad to see the streets, the housing societies, the colonies of Indian towns and cities have turned out to be polluted with abusive languages. It would take years of sincere efforts to convert our children to polished speakers.
Turning to English language, it has very few terms that cause discomfort. If our children are encouraged to speak in English, perhaps, they will not use much abusive words , instead they will start speaking our languages without losing their decency.
We can't ignore the fact that most of the learnings in schools happen in English.They need to have proficiency in English so that they score well in exams. Its our responsibility to keep the flame of English language alive all time which will enable our children to reach the gates of modernity. Let our children grow bold enough to face the world of tomorrow through English language. We should be waiting to see our children standing tall and straight ready to aquire the sunshine of modernity whose roots should be deeply penetrated into INDIANNESS.