This is the quote that everyone should keep in mind. I do feel that being at a position of comfort and achieving anything is difficult. We all need to get up and move out of this zone and work hard to achieve anything in life. One needs to time and again keep in mind that being in comfort zone is the biggest hurdle in our growth.
We are all created to fly. To live by the incredible potential that we all have been invested with. But often we sit in our comfort zone clinging to the things that are familiar to us. Remaining stuck in our comfort zones. Not willing to venture out and take risks. The possibilities are endless, but for most of us, they remain undiscovered. Because we continue to conforn to the familiar, the comfortable and the mundane. So most of our lives are mediocre instead of thrilling, exciting and fulfilling.
We all need to understand ourselves why we are not moving out of the comfort zone. Once we understand the reasons for clinging to the comfortable we, need to work towards getting up and coming out of comfort. I believe that unless we move out of the comfort zone and free ourselves we can never take off and reach new heights in our lives.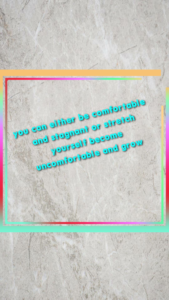 So dear readers, what are you waiting for? Move out of comfort zone and take your flight.