Got another chance to interact with this amazing personality. In my previous post I had the privilege to post an interview session with the multitalented person Deepak Ramola. In this post I'm posting a informative question and answer session that Deepak did for all the budding writers out there. Hop this is informative and helpful for all those wanting to start their career as a writers.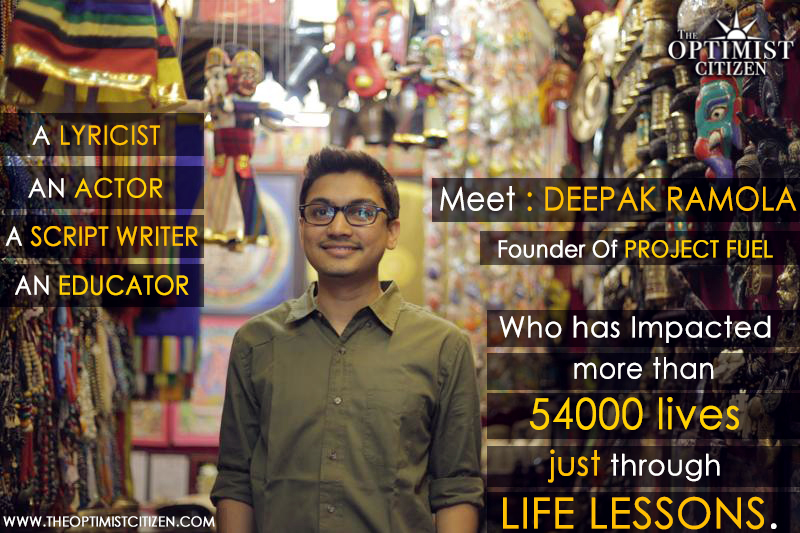 Are you always in the mood to write?
Not really. But, I try to create a discipline to scribble. So just in case thought lingers, I can continue to weave the flow. The mood to write has to be created honestly if one wishes to produce a volume of work.
How do you decide the flow of the content?
I first mid dump my entire thoughts on paper (or word document) without any filter. Flow happens during edits.
Sometimes I feel like writing, but nothing comes to my mind. I go blank what can I do?
That makes the two of us:
I try the following
Read some poetry (Oils my imagination).
Day Dream.
Pick an object around me and write about it.
Open the dictionary, choose a word and begin with it.
From where do you get the inspiration?
I believe inspiration is for us to sow and reap; not find and keep. Often I'm inspired by
People
Old black and white photographs.
Nature
How conversations made me feel.
How do you cope with lost words which especially come when there is nothing with you to jot it down?
I cry about them. Not everything has to be written down. Sometimes only to be felt in the moment. Who knows years later words may rise to explain them?
Once you decide the theme, how do you break down the chapters step by step?
Depends on the kind of writing- Poem, speech, a book. I have a simple rule for articulation and writing a talk- It needs to have:
The point: Setting a context about what the topic is
Point of view: My understanding of the theme from personal experience or inquiry.
View on the point made: borrowing quotes, references, ideas of other thinkers to substantiate the above two points.
What do you prefer writing indoors or outdoors?
Doesn't matter as long the writing gets done. People glorify inspiration. Yes a great setting helps, nut some of my best poems were written on an airplane. And there have been times when I was watching the most perfect sunset on a glacier and my pen was completely dry.
Which are those moments that definitely gives you a call for taking up pen and paper?
Being in nature. Like the view in the below from Zanzibar, Tanzania last year made me write a poem which goes like: Aankhon se safar dor ka maapte hain, jo log dariya ko badi hasrat se taakte hain.

आँखों से सफ़र दूर का मापते हैं, जो लोग दरिया को बड़ी हसरत से ताकते हैं।।
How to develop a discipline in writing?
To write is to pay and curse at the same time. I discipline myself by promising to write at least one page (good/bad) a day when I start to work on a new book. It helps me pick a thread. We don't have to invest the wheel every day. Take something you did yesterday and work upon it until something new shows up.
How to write clearly and not drag the point?
It's hard to achieve the 7th draft finesse in the first attempt. therefore you re-write to keep avoiding repetition. Editing is where dragging gets chopped. Don't be hard on step one. Write as much and then clear the clutter. Clarity is end goal to arrive at not starting point.
I tend to overly criticize my writing resulting in a desire to stop writing altogether. How to stop doing this?
You can only play one role at time- An author or a critic. I suggest the former because if you critics your work than what will other people do (laughs).
Have you ever given a thought when do you write often and what does it bring you after?
My words are my alarm clock. They wake me up when I need to. I write to remind myself of what I know for a moment when I won't any better. It's a loop. Writing is the reward. There is no after.
What you like most in writing?
The fragrance of language in the forest of experience.
What happens that you know you are ready to write?
When the fear of not having something written surpasses the agony of writing. I know I am ready.
sometimes I don't like sharing things. I like to keep it to myself. I don't know why and what to do about it?
That is absolutely fine. Performing or publishing is not the only way to express your words. We are often confused between the noun and the verb. Mostly people want to be a writer, not write.
I write a lot but still not confident enough on it. How to know that I could write well or not?
Self-doubt is a part of the play. I am still not convinced that I am a good writer and that someone will find out super soon. But what helps is to read to your trusted group. Participate in open mics. Get feedback to improve , improvise or invest.
How do you choose your words?
Mark Twain once said "Use the right word, not it's second cousin." I keep reading to enrich my vocabulary and thesaurus is always on a tab to find the best word.
How to be fast at work?
By being slow? And enjoying that. What goodnesshas speed achieved in writing?
How do you take time and dedicatedly sit down to write? I get distracted very soon.
I feel, creativity is a dance between investigation and distraction. Investigate when you feel too much and distract when you feel too little.
I don't feel like opening my laptop again after work to type. Any suggestions on how I should proceed?
Write on a paper. I swear I cannot champion enough the power of putting pen to paper vs just typing it on phone/laptop. Your rhythm improves in scribbling, imagination and imagination expands with doodling. " To pen down and not "type this out." I wrote 70% of poetry in diaries and then type it later.
Have you ever thought of writing something and come across the same sentence in any books?
All the time. People feel all the same set of emotions. It's hard to avoid overlap. As Grayson Perry said," Originality is for people with short term memory."
What inspires you to select the objective of your book?
Gratitude for what I know and curiosity for what I can.
If these tips were in anyway helpful to you do let me know by commenting in the comments section below. Also if you have liked my work and would like to support me you can click on the link below and help in whatever way you can. https://www.patreon.com/storymet