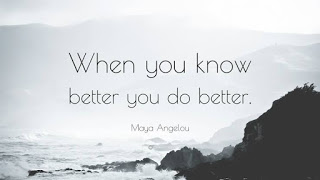 This is one of my favorite quotes from Maya Angelou because it is so true and it goes for everything in your life.
This phrase has a simple and clear meaning to it. I feel that it means that we often make mistakes because we don't know the right way to do stuff. Once we learn the right way we understand and learn from our mistake and change it and don't repeat it again. Learning from our mistakes is important and have discussed in length about it in my previous blog post.
Basically they say it's no use to hold grudges towards your past or hold yourself hostage to who you were and what you were and what you did before, when you didn't know better. At some point in time and with many more experiences, you might come to realize a certain truth about yourself, or about life. At this juncture in time. You now know better, so you must seek to do better, so you must seek to do better.
"know Thy self," and "To Thy Own Self Be True." Greek wisdom. If you know better and now seek to do better; you remain true to yourself. Because in the end, you are dancing on this earth for a short period of time.
Have you ever wondered what will happen if you admit that you're not perfect and that's okay? Most of the times we screw up and that's okay, as we're humans and it is bound to happen and guess what? when you know better you will do better. So today my friends don't be so hard on yourself, its okay, you will screw up, you will fall on your face, Hell, I do it all the time and then tell the world about it.
When you know better, you do better sense because we learn, we overcome and we improve and grow.