This time of the year due to the turnover of events that have happened year long the spirit of most of us is crushed. All are feeling defeated and neglected. Families are journeying through some really rocky territories and honestly no one is liking it at all. Who likes going through the storm? No one. But. I also know that it can either drive all of us away from God. I have decided to draw God near me and hold on with prayers.
Prayer is one of the most important thing in all our lives. It is a time when we are communicating with God. I believe that prayer time should be taken very seriously. While there is deep theological meaning in prayer, it doesn't have to be something that is complicated and difficult. Prayer is something anyone can do anywhere at any time.
I believe that prayer is implanted in the heart of every person, regardless of his or her race or color, is the desire to worship, in some manner a divine being. For me prayer is a primary method of communication between God and me. Praying plays an important part practically in every religion.
In my life my prayers have been answered very directly many times. Prayer has been a great blessing to me and my family. For me, prayer has had a lot of power and I always believe that lord has repeatedly told us to pray always and that he will pour out his spirit upon us and bless us greatly.
For me , prayer was relegated to Sunday mornings, a quick bedtime prayer and in times of most desperate need. I thought I was doing enough to check the box on my list of things. I at a point in life never understood the importance of prayer. I know we all have been through this same phase where our parents force us to pray and we get irritated and angry. I think after a point in life we all realize the importance of prayer in our life.
Prayer is more than something to check off a to do list. It is more than an obligation or expectation. Prayer isn't meant to be an afterthought, a last resort when nothing else works. It is meant to be your guiding star, the most crucial conversation of the day.
Do you want to experience the power of prayer? Want to know firsthand the benefits of prayer and spending time with God? Want to know if prayers really works? If yes, then let's look together at the reasons prayer is necessary and vital for our lives.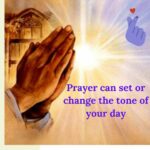 By starting our day with a morning prayer in a state of gratitude and bliss from the heart, we will set the tone for attracting the same, which is the reply from the Divine. Our message will also create a space for God to provide us with that or something better. Don't expect things to change unless you change it first. Internal change, that is what we are talking about here – inner work that will shift our perspective, our feelings, our choices towards life. Things are not happening TO me, instead they are happening FOR me.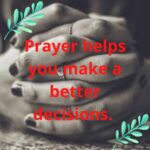 How often do you find yourself making poor decisions and wishing you'd acted differently? What difference would it make in your day if you instead.
Decided to react with calm and reasoning instead of yelling?
Decided to take the time to really listen to a friend instead of rushing off to your next appointment?
Decided to make a healthier choice instead of falling into old habits?
Even the small decisions in your life make a big difference, so how are you approaching them? Praying about each decision will help you make better choices. Ask God for help and guidance.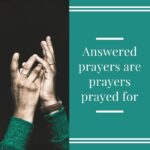 If you aren't praying and asking for God's blessings and help, how do you expect him to answer your prayers? He's ready and waiting to bless you with good gifts in his time and his way, but he wants you to first engage him in prayer. He wants your heart and that's something you can only truly give him through the daily practice of prayer.
I believe that we all must make God a priority in your schedule, opening your heart, and submitting to his lead. What are your thoughts on prayer and staying close to God? Do let me know in the comments.