With immense happiness I would like to introduce you to the bestselling author Ketan Bhagat. He is someone with whom any Indian citizen could easily relate to. And definitely you guessed it right. He is the younger brother of one of the most famous writers in India, Chetan Bhagat. And his books are nothing like typical Chetan Bhagat books. Undoubtedly, it is Ketan Bhagat's candidness that makes him a class apart. He is a writer, motivational speaker and a yoga instructor. He is also a keen learner of the Bhagwat Geeta. In an interview with Monideepa Mrinal Roy (The Keen Writer) the versatile author shares several interesting facts about his journey of life. He has authored two books COMPLETE/CONVENIENT and CHILD/GOD and has also written screenplay for Netflix original movie UPSTARTS
Let's know more about him and his life in his own words.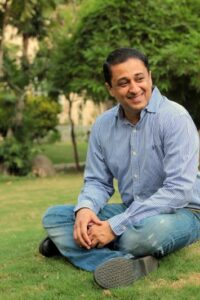 Here is the audio clip of the interview that Ketan Bhagat gave.
To invite Ketan for a lecture in your institution, please contact Bandana Bastani at bandanabastani@gmail.com To send a personal message to Ketan, please write to me@ketanbhagat.com
The link to Netflix original movie written by Ketan Bhagat is given below. Do watch the movie. It is a beautiful movie worth watching. https://www.netflix.com/title/80998890?s=a&trki=13747225&t=cp