With immense happiness I would like to introduce you to the bestselling author Mahendra Jakhar. A former crime reporter, Mahendra Jakhar is a scriptwriter for feature films and TV shows. With a BA in English Literature, he started out as a freelance photojournalist for The Times of India, but quickly became a full-time reporter.
By 2006, he was in Mumbai, combining his passion for photography and love for writing by becoming a freelance scriptwriter. His first film-project was the screenplay for Mahesh Bhatt's 'The Killer'. He has gone on to write scripts for many shows like CID, Mano Ya Na Mano and Seeta aur Geeta, as well as researched and written Discovery's documentary on the hijack of IC-814 from Kathmandu to Kandahar.
A voracious crime thriller and murder mystery buff, his writings "The Swastika Killer" and "The Buthcher of Benaras" reveal his field knowledge in the themes he picks. His first novel, THE BUTCHER OF BENARES, was published by Westland Publishers. It was rated as the Best Crime Fiction Debut Novel of the Year and was he was awarded Amazon Rising Star in 2015. His second novel, THE SWASTIKA KILLER, was also published by Westland Publishers. His third novel CHAKRA WARRIOR was published by Tara India Research Press.
His latest release as a script-writer was Manjhi – The Mountain Man, directed by Ketan Mehta. Recently he has co-written the script for Hindi feature film CHANDAMAMA DOOR KE … directed by Sanjay Puran Singh Chauhan. Its India's first epic space adventure film about India's most daring mission to the Moon. In an interview with Monideepa Mrinal Roy (The Keen Writer) the versatile author shares several interesting facts about his journey of life.
Let's know more about him and his life in his own words.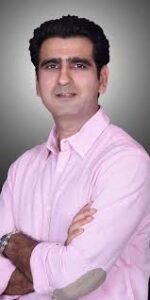 You are a writer, blogger, and journalist. Who do you think you are, like what defines you?

I consider myself a storyteller working in various mediums of storytelling, be it writing for feature films, my books, television or now web series. I am like an innovator or an inventor who's always looking for new stories that can be like inventions, and my book or my story takes the shape of a start-up. Furthermore, I'm my own CEO who combines the love of storytelling with the science of innovation and the business of a start-up.
How did you get fascinated to write in the genre of thriller?

It was a gradual evolution, as right from my school days I loved to read thriller, from spy stories to murder mysteries. Then I started working as a crime reporter with The Times of India in Delhi and there I honed my skills of writing and investigation. I started writing for television with CID, Maano Ya Na Maano which were thrillers and these turned out to be my schooling in the art and craft of writing thrillers. The first feature film that I wrote was for Mahesh Bhatt's production, The Killer, starring Irrfan Khan and Emran Hashmi. Later I took to writing books and I never planned to write thrillers it was this gradual evolution that happened and my love for the genre grew, and today I'm more comfortable writing these.
You came from Delhi to Mumbai leaving your job as a journalist to get into the film industry to become an actor . What was the reaction of your family?

I did a lot of theatre during my school days and always had this dream of being an actor. For the first time when I came to Mumbai, I came equipped with a few photographs of mine and started the rounds of various producers and directors. However, something changed inside me running after the film-makers for fifteen days. I realized that I cannot become a top star. It was like a voice inside me told me and I told myself that I shouldn't waste more time on acting. I have been writing a lot and again the vice inside me told me to go in for writing. My family, especially my parents, have been very supportive of my decisions. My father was a simple army man and didn't understand anything about movies or the film industry, and he never questioned me. Even my mother supported me.
How did you get into script writing, novel writing and journalism?

It was my schooling and some brilliant teachers that I had who brought out the creative side in me. I used to write a lot for my school magazine, but nothing ever got published. Somehow, I never got disheartened. After my graduation in English Literature from Delhi University, I started as a freelance journalist with The Times of India, and soon they offered me a full time job. After working there for over seven years, I got bored with collecting information and so started my journey as a storyteller. With my varied experiences as a journalist, I started my first film script that was later made into a feature film, Shaagird, directed by Tiggmanshu Dhulia. I also did a lot of writing for TV shows and realized that there are so many stories that would never be converted into a feature film as the movie business has it own issues of logistics, budgets, and production. I started writing novels and my first novel was published by Westland Publications, The Butcher of Benares. The book was rated as the best crime fiction debut novel of the year and I was the Amazon Rising Star of the year. This gave me a lot of confidence to keep going and keep writing.
Is there a difference between writing a screenplay and a novel? Which one of the two is easy?

None of it is easy. You have to put in a lot of work and do a lot of re-writing for both. Well, writing a screenplay is different as one has to work with the director, after all it's the director who will convert the written word into audiovisual. Then the actors also come in and give their inputs. Even if you are writing the screenplay solely, it becomes a collaborative effort. Each studio has their own creative teams and once your script reaches them, the creative team will come up with their list of ideas and suggestions. Sometimes the suggestions are valid, and it helps to improve the script, and at times it can turn a good script into a mish-mash of sort if you start listening to everyone. While writing a book, the author is not only the writer but also the director, the cinematographer, the characters, and everything. Definitely, for me writing a novel is more creatively satisfying but films and television pay better. So you have to balance and keep up with all mediums of writing.
How was your experience being a crime reporter and a photographer?

I enjoyed my work as a reporter and had the privilege to work with the senior most people in the business like Vinita Dawra Nangia, Sabina Sehgal Saikia, Pratyush Kanth and many others. Being a Haryanvi gave me an edge, as most Delhi policemen are from Haryana, and they would open up with me easily. Soon they started calling me, giving me information and would keep me updated. It really helped me understand the craft and hone my mind for thrillers.
You have written scripts for TV shows and films. How is your experience writing the shows and films?

I have been fortunate to work with the best names in television who taught me and almost hand held me when I started. It was a time when I left my job as a reporter, and it was getting difficult financially, and writing for TV really helped me earn my bread and butter. In fact, television pays better than movies, and that's why you see all the big stars and directors moving to television and now to web series. While writing for films is a tedious task as it can take two-three years for one script to turn into a film or even more.
What is the best feedback you have received from readers up till now?

Right from my first novel, The Butcher of Benares, most readers told me that my writing is almost like watching a movie filled with powerful visuals. I think that came in with me being a screenplay writer as I usually think of a strong visual whenever I'm writing a scene and that carried on when I'm writing my novels.
What is the one thing or habit that is a game-changer in your life?

One thing that really helped me is that I never consider myself a creative person or allow myself the luxury of thinking for long periods. I see a gardener working all day, a labourer working and sweating so I work like a labour. I sit at my desk and write and write, even if it turns out to be trash. This helped me stick to deadlines in television and movies.
Is there any tool or app that is helping you to stay productive?

I don't use any app to help in my writing. The most important thing is discipline, which most creative people lack. However, if you are a professional writer, I think discipline becomes the key to write every day.
I would like to know about the process. What I mean by process is that since you are a writer, Is there a process or ritual that you follow while writing?
Like I said I imagine visuals that go along with the story, the characters, and then only I start writing. For me, the characters and their stories matter a lot, so I work a lot on the characters. The story keeps unfolding by itself, and I trust in that process. I keep doing my research as I go along the way, and most of my writing is instinctive and spontaneous. I don't have a full chart of the story, plot, or even the arch of the story when I start. Furthermore, I feel then it becomes too methodical and mathematical. I believe in the organic process and let the story and the characters guide me.
If you have to start your life journey, all over again, what are the three things that you would have done differently?

I won't change a thing. The whole journey, with its up and downs, has been so beautiful, enriching that taught me so much. I have evolved because of whatever happened in this life, and hanging it would disrupt that natural flow. I believe everything happens for a reason, and it guides to our higher destiny.
Imagine that you are standing on the stage of the world's largest stadium ever built, which has the capacity to fill millions of people, and every single seat in the stadium is filled. What would be your message for the people seated?

Your life is perfect. This is exactly the life you were supposed to have. Life is beautiful. Everything that happened or is happening is there for a reason to help you grow. Live. Love. Laugh.
How can people get in touch with you?

I'm on Twitter: mahenjakhar
My email: mahenjakhar@gmail.com
Instagram: mahenjakharworld