With immense happiness I would like to introduce you all to Priya Sreekumar who is a writer, crafts person and a creative artist. She has turned her passion for embroidery and craft into a business on instagram. She holds a bachelor's degree in Electronics and Communication Engineering. She is a freelance artist based out of Kochin, India.
She is a self made artist. She started out with paper crafts 2 years ago. She has now diversified into embroidery hoops, which includes interactive embroidery hoops. She picked up the slow art of embroidery as the craft allowed her more freedom than paper craft. She believes that as long as you make the 'why I'm doing it' statment clear, people will search you.
In an interview with Monideepa Mrinal Roy (The Keen Writer) Priya shares intresting stuff about her life so that we all can learn from her inspirational life.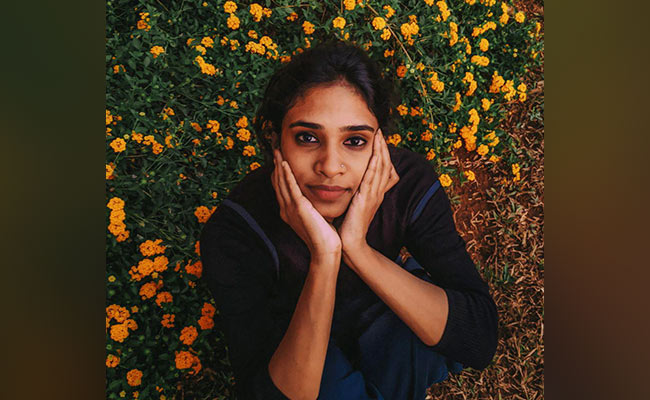 1. You are an artist and an entrepreneur. Who do you think you are, like what defines you?
I am everything I passionately believe in and all things I do with my heart. I deeply feel that we need to be known for everything that we have achieved and for things we can possibly do, but most importantly, for the love that resides within us.
2. How did you think of picking up the needle and also doing paper crafts, since you have a bachelor's degree in Electronics and Communication?
I started paper-crafting while I was in the final year of my college and I started to do embroidery this year during the pandemic. I believe it is through the love I have for the people in my life and through the connections I made I started to find joy in gifting people.
3. How do you manage to fulfil the orders from your studies and college?
While I was doing my bachelor's in Electronics and Communication Engineering, I used to do commissioned art only on holidays and weekends. Back then, it was done just as a hobby and as a start for me to become financially independent in the small ways possible.There is one simple secret to managing things – it is exciting if you like it.
4. Who is the one person that inspires you to do all that you do?
Everything that makes me feel deeply inspires me to create. I do art out of love and deep emotions – it helps me to pull the trigger, feel seen and heard. It also helps me to channel my emotions easily. Also, meaningful connections inspire me.
5. What is the one thing or habit that is game-changer in your life?
The ability to listen to my inner voice and to take risks and face uncertainties is what kept me going and changed things for me. I feel it's important to listen to your heart and take life as it comes rather than forcing things because we are conditioned to do so.
6. Is there any tool or app that is helping you to stay productive?
I am not a very productive person all the time. I take breaks when I feel exhausted and I believe that we all should be kinder to ourselves in that regard. I do not believe in being productive all the time; I believe in creating art that touches people and stays with them longer in their lives. There is no app or tool that I rely on to stay productive.
7. I would like to know about the process. What I mean by process is that since you make hoop embroidery and papercrafts all by yourself, is there a process or ritual that you follow while doing this?
I keep on experimenting my hands on new things each day, and I mostly do it through the hard way – the trial and error way. I plan the completion of commissions and their on-time delivery, but if you ask me about the process, I would say that I go with the flow while creating. Everything else is managed by myself, be it responding to queries, packaging, and sending it out.I pause when an experiment fails, and I rejoice when something turns out wonderful. I believe that is what keeps me going and makes me better at it.
8. If you have to start your life journey all over again what arethe three things that you have done differently?
I would have gone to a film school to learn film-making and see if I could make something out of such a powerful artform to talk to people who I don't know. I would have been consistent in this journey and would've travelled more often.
9. Imagine that you are standing on the stage of world's largeststadium ever built which has the capacity to fill millions ofpeople and every single seat in the stadium is filled whatwould be your message for the people seated?
Any day, I would like to tell people to carry all the love in the world within them and listen to their heart, and trust their journey. And if ever I have to give out a message to artists who discover themselves each day, it would be this – growth is a process and there is no substitute to struggle.
10. Where do you see yourself five years down the line?
Contrary to the popular answers we all come across to this question, I would like to say that I am open to welcoming what life has in store for me. Life has a beautiful way of proving us wrong, so I like to leave it to destiny.
11. How can people get in touch with you and buy the beautiful art work that you make?
People can get in touch with me on my instagram page priya_sreekumar or via mail priyasreekumarcreations@gmail.com.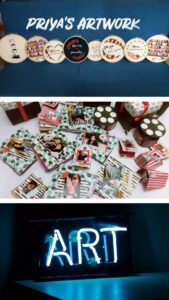 Do follow Priya on instagram by clicking on the link given above to have a look at more of her work. Do let me know if Priya inspires you to follow your passion no matter what your field of study may be.