I am thrilled to introduce Anupam Karangle to my readers. A young man who has already added numerous feathers to his cap. Anupam was born in Nagpur, Maharashtra, the Orange City of India. He has a master's degree in marine science. He is a professional marine scientist. He is a published poet, screenwriter, amazing storyteller, and teacher in addition to being a marine scientist. Aside from that, my friend is a true artist at heart. Anupam has been writing for more than 15 years and is now working on his second book.
My buddy recently founded the performing arts community UNTHOUGHT TALES in 2020. This community organizes and manages artists from many sectors of art, as well as provides freelancing possibilities in the domains of art, literature, and entertainment.
In an interview with Monideepa Mrinal Roy (The Keen Writer), Anupam explores a variety of significant life lessons that we may all utilize as a dose of inspiration in our own lives. I hope this interview encourages and inspires you to pursue your passion even if you have a full-time job.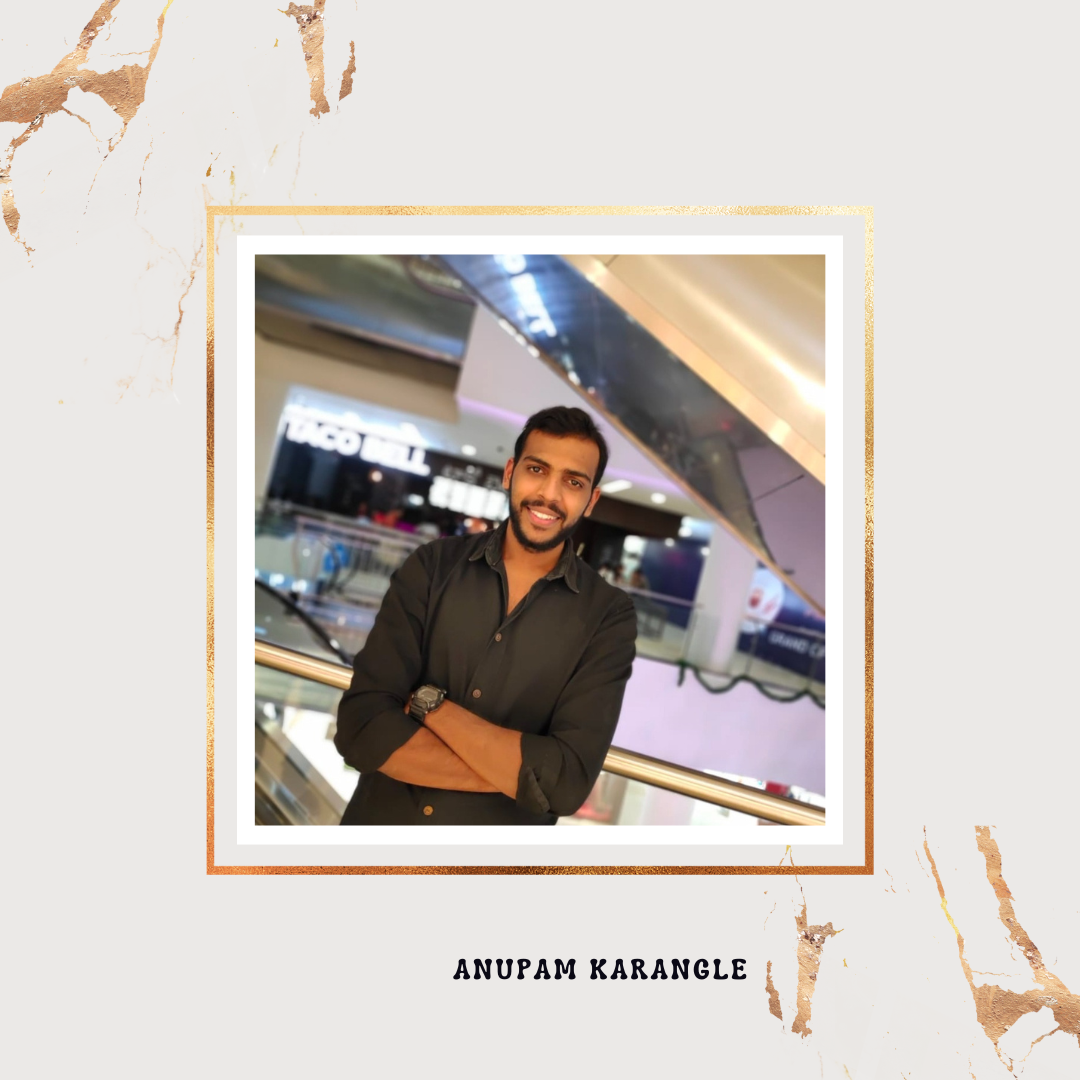 Tell me something about yourself? Who Anupam is as a person?
Well, to describe with a career perspective, I belong to science as well as art. I am a marine scientist, working at Garmin International. Apart from this, I write professionally for several firms, perform poetry, storytelling and give workshops to students for the same. Anupam, as a person can be described as curious. Likes to put his hand in different things, he is always curious to learn.
When did you realize that you've the skill of penning down poems?
To be honest, I believe skills are developed through the process of writing and keeping at it continuously. I started penning down my thoughts at a very young age, and through a collective process of extensive reading and writing, I am what I am today.
You started writing at a very young age and published your first book of poems at a young age. Who has been your biggest support in your journey?
Well, there have been a lot of people who have supported me. My first book was published when I was 20 years of age. To name a few, my brother has been a great support through the publishing support. My family members have been my guinea pigs for all the successful writings.
You are a working professional who also is a poet and conducts and participates in open mikes. How do you find a balance between the two?
I take time to perform in shows mostly on the weekends. Also, I have a habit of reading everyday. You see, its very important to read to be relevant in the process. For the freelance writing, I do at my convenience and try to manage the switch between scientific and artistic thinking. Initially it was difficult, but as I said, with a habit of reading every day eventually it becomes easy.
I know that you also write short stories along with writing poetry. So, what is the difference between writing poetry and writing prose? which out of the two is easy for you?
Writing poetry is much different than writing stories. Stories need to be built properly. They need to have a clearer output. Whereas in the case of poetry writing, whatever you write, can be classified in either form of poetry. You don't have to have a plan. You can just swim along with the tides of your thoughts. For me, personally, poetry writing is easier, but I enjoy both poetry and storytelling equally.
What is your advice for people who like you are working, but at the same time want to explore their creative side?
The only advice I would like to give them is that develop a habit of reading as much as you can. Reading opens up doors of creativity in your brain and new ideas pop up with time. I believe this is relevant in all the arts. You need to experience the art first to work on it.
What are your views on:
i) It's hard to follow your passion
ii) Your job and your passion can't co-exist
Following your passion in coexistence with something that's totally different is certainly difficult, but not impossible. If you keep witnessing good art, somewhere the motivation grows to an extent that you can't help but take time for your passion. Also, if you think of your artistic passion with an intention of extracting monetary favors, you certainly have to invest more time in it. That purely depends on the job that you are doing. However, if this last line disheartens you, let me tell you, "There is always a way out."
What is the one thing or habit that is a game-changer in your life?
For me, the habit that has worked wonders is the habit of reading and my love for literature. This all arises from my curiousness towards everything.
Is there any tool or app that is helping you to stay productive?
There is no specific tool or app I use to stay productive. However, I would suggest to opt for multiple sources. Google is the best and most accessible source to acquire knowledge. Apart from that, you can read books in several forms (paperback, e-books or audio books) and listen to podcasts.
If you have to start your life journey, all over again what are the three things that you would have done differently?
I would definitely start reading at a younger age than I did. Another thing that I would have done is attending and watching more shows, plays and movies. Storytelling is medium that gives us an insight and hacks about better delivery of the words. Also, no doubt I would have given a more serious shot to acting. I have, but not taken it quite seriously.
Imagine that you are standing on the stage of world's largest stadium ever built which has the capacity to fill millions of people and every single seat in the stadium is filled. What would be your message for the people seated?
Well that's the most difficult question, but at the risk of sounding like a preacher, let me answer this. I get the opportunity to be heard by millions of people because of a certain contribution I have made to the entertainment of society. However, there's a great lesson my father has taught me. He said, "You have had a certain journey. But not everyone has had the same journey. So anyone who hasn't reached there, is not stupid or 'not good enough'. The parameters of success are customized for everyone. In the end, the process is what defines you. If that's true, material success will follow, too." I would love to pass on this message.
How can people get in touch with you?
Twitter: Anupam Karangle, Unthoughttales
Instagram: @anupam.karangle, @unthoughttales