Wake Up Sid is a 2009 Indian Hindi language coming of age comedy drama film. Those who have watched the film could associate with it's refreshing yet innovative storyline. This film portrayed the current generation of youngsters very well, there was nobody who couldn't relate to the film. It is one of those rare films that you can watch a hundred times and discover new things about it every single time.
In this post I have brought to you the life lessons that I found relatable and practical to our modern day lives. Both young and old can use these lessons in everyday life.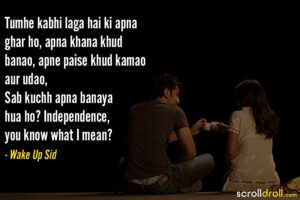 It's necessary to break your shells and come out of your comfort zone: It's very necessary in life to realize the importance and make oneself capable of earning one's own bread. The main character Aisha emphasizes in the movie the value of self reliance and personal growth.
I believe that getting out of your comfort zone from time to time creates just enough good stress to ramp up your focus, creativity, pace, and drive, and it helps you respond to life stress when unexpected things happen.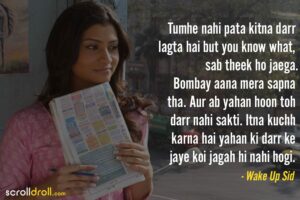 Being fearless is the only way in life, to make your dreams come true: When Aisha opened up about being scared everyday, but taking this as a challenge to pursue her dream, she gave us a major reality check about life. She inspires one to be brave and take chances.
If you want to live the life of your dreams you must stop running from your purpose. You were created to live a life of meaning and purpose, and like Maslow said, the only way to be at peace with yourself is to live the life you were created to live.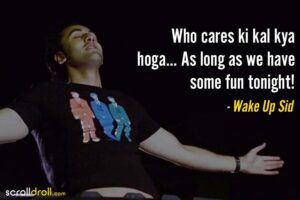 Live in the moment, make memories everyday: As millennials go with the quote "you only live once." The other main character Sid made sure ton do justice to the saying, with his carefree character. Sometimes, it's okay to escape and find happiness and pleasures under the multicolored lights, late night drives with the best of your friends. .
Living in the present moment means letting go of the past and not waiting for the future. It means living your life consciously, aware that each moment you breathe is a gift.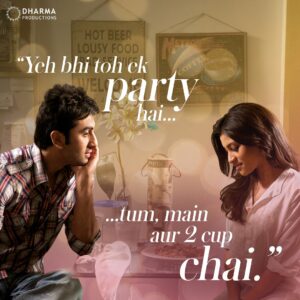 Embrace the little things and moments in life, while making them countable: Making a layered cake with bread loafs, loaded with jam in ten minutes and stargazing with the city skylines inspires us to embrace the simple pleasures in life. Aisha and Sid touched our hearts in those moments.
Being grateful for the little moments around you is not a miracle cure. It can't fix your life problems. It won't be able to make you feel good all the time. But taking time to appreciate the little moments helps you in ways you never thought possible. It is the easiest way to adopt a gratitude practice. Taking time to enjoy the little moments can be a life changing experience and it is something I never plan to stop doing.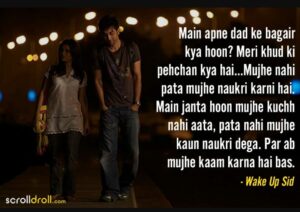 Failure doesn't hold the power to define you: Being lost can help pave one's road of success. Sid loved his passion so much, that he believed to make it a profession. He encourages one to realize and embrace your inner calling. He inspires one to create a unique identity about onself.
There are things that you and only you can do. Things that will never be done if you do not do them. But any worthwhile accomplishment is going to call on you to trust in yourself more fully, to risk mistakes and reframe your failures as all par the course of what it takes you to succeed. Most of all, it will take stepping out of your comfort zone again and again, no matter how loud that little voice of doubt is screaming in your head to play it safe, turn back or give up.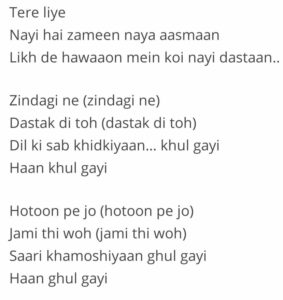 Grab every opportunity that is capable of reflecting your potential: These heart warming lyrics from the song 'Aaj Kal Zindagi' allowed us to have a moment with ourselves while Sid takes the internship opportunity to start working. Watching Sid from being a spoilt brat to becoming a responsible adult was surely captivating enough to motivate us.
Opportunity always knocks on the door during the most hectic of the days. It should be you who should be ready to give a warm welcome to the opportunity and do your best in the same so as to take full advantage of the opportunity. The way to success starts when the preparation and opportunity meet. All you have to do is keep your mind open to every opportunity that comes along your way. Opportunities are often missed by deliberation.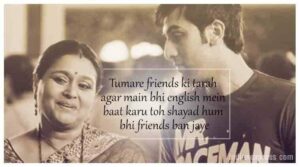 Family is the strongest support system and should be your first love: No matter wherever you go, whatever you follow with a good note, your parents will always support you. Your parents have unconditional love for you and would accept you no matter what. They deserve to be loved and respected equally.
Parents are the first and most important teachers in every child's life. The importance of family starts at birth and stays constant throughout life. As children grow into their teens and early adulthood, families can be a bedrock of support during times of change. Family is important to all of us because family is the only one to provide us physical, emotional, and mental health which can't be found anywhere else.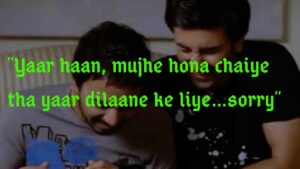 Some friendships are capable of surviving storms as they are meant to be forever: True friends will always support you and pray for you even on bad terms. Sid rekindling his friendship with Rishi eventually brought a smile on our faces, and allowed us to reflect our bonds with our friends.
Friends and social support are especially important during times of crisis and turbulence. Your friendships also encourage healthy behaviors that can have a direct impact on your well-being.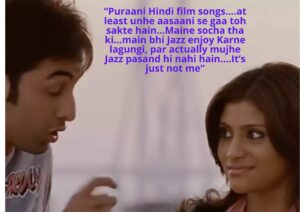 It's okay to enjoy the simple things in life, if they are comforting and make you safe: It's not necessary to fit in to make yourself feel accepted. Things which comfort you will always find your way towards you to give yourself a unique identity about yourself. Ayesha teaches one to hold on and accept things which can make you feel home.
Enjoying the pleasure of simplicity is an attitude that many have harvested because they have developed an adequate internal peace without artifice. The main thing is that the key is not to lead a simple life, it is keeping simple thoughts and knowing what is important, what really makes our heart happy and identifies us. From there, all of us are free to build our own micro universes.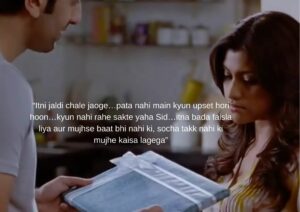 Separation hurts, but don't let that emotion be a burden on someone else: It's okay to acknowledge your feelings, but sometimes words cut through real deep. Ayesha was right at her point, and so was Sid. There was a lack of understanding between the two, but soon they rekindled their bond. Separation happens for the good, and needs to be embraced with ease.
Separation is an inseparable part of human life. We need to accept this phase of life as we accept all other aspects in life. It is very important to understand that separation from a loved one is not the end of life.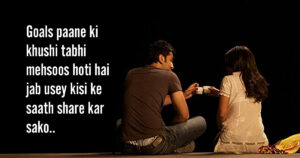 Love isn't always perfect, but will always be pure when found in the right person: Love which makes you grow as a person is empowering. While Ayesha learns to address her feelings, she realizes that she has fallen in love with the friendship she shared with Sid. Both allowed each other to grow individually and that helped them perceive their goals and feel respected for what they truly are.
Love isn't always perfect. It isn't a fairytale or a storybook. And it doesn't always come easy. Love is overcoming obstacles, facing challenges, fighting to be together, holding on & never letting go. It is a short word, easy to spell, difficult to define, & impossible to live without. Love is work, but most of all, Love is realizing that every hour, every minute, & every second was worth it because you did it together.
Are there any other life lessons that you could discover when you watched this movie? Do let me know in the comments below. Also do let me know if you watched the movie after reading this post.