May is the month of mental health awareness. So, in this month let's raise awareness and educate about: mental illnesses. Mental Health Awareness Month began in the United States in 1949 and was started by the Mental Health America (MHA) organization (then known as the National Association for Mental Health). Each year in mid-March Mental Health America releases a toolkit of materials to guide preparation for outreach activities during Mental Health Awareness Month. During the month of May, MHA, its affiliates, and other organizations interested in mental health conduct a number of activities which are based on a different theme each year.
So, let's together explore the history of stigma around mental illnesses, and why Indians don't talk about their mental health
Movies have these typical depiction of what a "mad" person looks like, and our society's understanding of mental illness begins and end ends there why?
In the Atharva Veda mental illness is said to be cased by "divine curses!" And in Ayurdeva by "pischachis" or "evil sprits!"
What we now classify as mental illness was around the ancient world as possession by the evil spirits. And treatment often involved charms and amulets with magical powers that could tame the possessed person. This notation that a person with a mental illness needed taming shaped treatment practices for years, from the Bethlehem Hospital that isolated "the insane" in the 13th century to Salpetriere Hospital in the 17th century, where patients were chained and placed in small cells like prisoners.
In the 18th century this attitude did change in the West. European reformers advocated therapy focused on an uplifting , healing environment, while physicians began questioning the main stream understanding of mental health, arguing for the first time that illness could be psychological.
It was this approach to treatment which lead to the formation of India's first "asylum" in 1745. Though some of the asylums followed more humane treatments, most were still structured to isolate patients with mental illness from the rest of the society because they were considered "dangerous."
Although there has been a gradual shift towards community care and more compassionate treatments, some even today criticize institutions for ill-treating patients, not giving them enough agency, and reinforcing the idea that a person with mental illness must be taken away from society to control their disorder.
Added to this stigma is modern medicine is the popularity of some traditional healing practices which continue to propagate the notion that mental illnesses are a product of evil spirits. Ad such believes inform popular perceptions of mental illness.
One study in India found that 60% of people believe that those with mental illness should have their own groups to avoid contaminating healthy people. And 68% believe that they should not be given any responsibility.
From Bollywood movies that mock mental illness to news reporting that fore grounds violence. The media further reinforces those negative perceptions. People with mental illness are portrayed as violent. murderous and unpredictable, and are often blamed for their own conditions.
All this shaming in the media, in our health care systems, and in our interpersonal relations not only harms those suffering from severe forms of mental illnesses, but also makes us deny its common forms, like depression or anxiety. But the fact of the matter is that one in ten Indians have mental health condition and one in twenty is depressed.
So, instead of denying that mental illness can affect our loved one, who has no good reason to be depressed. Or instead of claiming that it's just a phase or attention- seeking behavior.
Maybe its time we start taking mental illness seriously? Let's take a cue from health advocate and activists, and start talking about mental illnesses in our schools, our homes and workplaces.
Let's finally recognize the agency and experiences of people living with mental illnesses. And let's work towards ensuring that people seek help and can access it.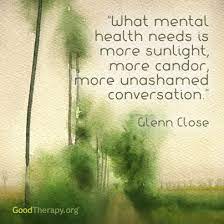 Do let me know your views no the topic and also what you are doing to take care of your mental health during these tough times in the comments section below.